OUR WINE TASTINGS TAKE PLACE WITHIN OUR OPENINGS HOURS FOR ANY GROUP SIZE. OUR CUSTOM WINE TASTINGS 5+1 ARE MADE ACCRORDING TO YOUR PREFERENCES.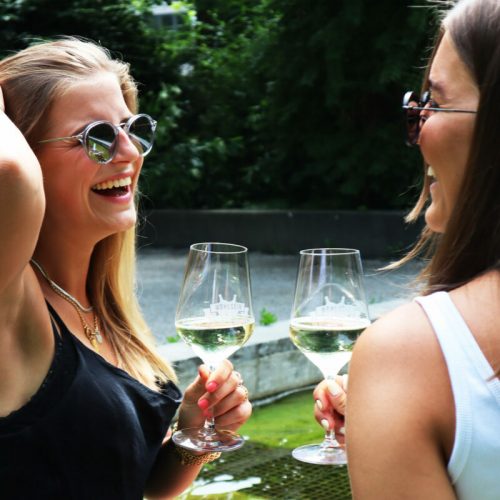 Our wine tastings are all created as 5+1 wine tastings. 5+1 means a Secco or sparkling wine as an aperitif beforehand, and then 5 wine tastings a 0.1l. Water (still and sparkling) is included. The custom wine tastings are arranged according to your preferences.
Each wine tasting is prepared just for you. In order to prepare the wine experience for you in the best possible way, we ask for your preferences when you make your reservation. The wine selection will then be made according to your preferences, i.e. no two wine tastings are the same.
5+1 WINE TASTING MIT PASTRY
39€ p.P.
Non-alcoholic 29€ p.P.
Hearty pastries to neutralise and absorb accompany the wine tasting. The pastries come from regional bakeries and are made on the day of the event. Please let us know if you prefere a vegetarian meal by making your reservation.
5+1 WINE TASTING WITH FLAMMKUCHEN
49,00€ p.P.
Alkoholfrei 39€ pro Person
Die Flammkuchen is served in family style. This means that two pieces are placed in the middle of the table at the same time and everyone takes one. This makes it possible to eat comfortably while tasting the wine and the Flammkuchen is always hot and fresh. Die Flammkuchen is usually served in the classic Alsatian style. This variant is also available vegan or vegetarian on request.
5+1 WEINPROBE MIT FRÄNKISCHER BROTZEIT
49,00€ p.P.
Alkoholfrei 39€ pro Person
Our Franconian snacks are served with variations of sausage and cheese with olives, grapes and spread. We serve a variety of breads from our local partners. This variant is also available vegan or vegetarian on request.
DON'T DRINK AND DRIVE – LIEBER NUMMER SICHER GEHEN
For pregnant women, athletes, drivers or if someone does not want to consume alcohol for other reasons, we offer an alcohol-free alternative. Different non-alcoholic wine products will be tasted so you can take part in the event. Nur weil man keinen Alkohol trinkt bedeutet es nicht, dass man keine Weinprobe genießen kann.
The non-alcoholic tasting is priced at €19.00 per person with pastries and €29.00 per person with food selection. Wasserbegleitung ist auch hier inkludiert.
NETIQUETTE
We look forward to wonderful tastings during your wine tour through Franconia, in a relaxed atmosphere! We love wine and want everyone to enjoy, discover and try new things with us. At this point we would like to remind you to take the responsability in the current Covid Situation and for your consumption of alcohol in general.
We are very pleased that wine tastings can take place again and that you, as our guests, follow our hygiene concept so carefully. Your consideration will ensure a relaxed evening for all guests. Please bring one FFP2 mask to take part to the event and wear them at all times when you are away from the table. Vielen Dank dafür!
We would also like to see this respectful attitude towards each other during our events. We invite you as guests to our vinotheque and would like to create a relaxed atmosphere for you to feel comfortable. We would like all our guests to share this attitude, so no guest should feel disturbed by another. Please also take to heart that our wine experiences are designed as an event, like a visit to the theatre. For the tasting, 2.5 hours are planned just for you, during which we will tell you the stories around the bottles. Should you be late for a wine tasting, it is unfortunately not possible to add the lost time at the end.
For us, the focus is entirely on the enjoyment of this unique natural product. As our tastings include alcohol and it is an experience for the senses, we ask you not to drink too much in beforehand. (Yes, you know what is meant.) We constantly pour the wine during the wine tasting, because it's primarily about tasting. Should the event be unsustainable due to excessive alcohol consumption by participants before the event, we reserve the right to terminate or not hold the tasting.
In this case, only 50% of the amount will be reimbursed. Should the wine tasting have progressed to the third tasting, no refund will be given.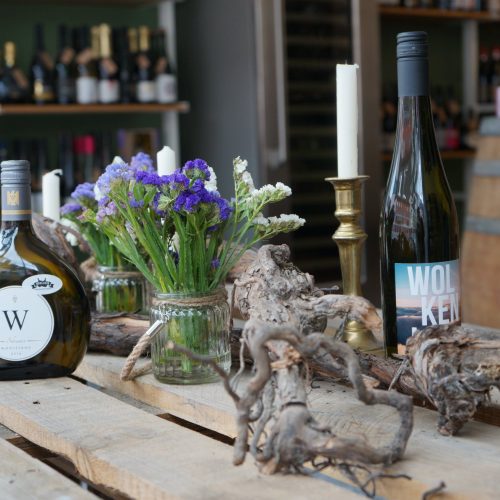 SEI BEIM NÄCHSTEN EVENT DABEI!
Sowohl in Würzburg als auch im Erlangen finden Winzerweinproben, Blindverkostungen, Themenweinprobe & Weinsteiger Kurse statt.